Important Consideration When Your Loved One is Discharged from the Hospital
A hospital stay for someone you love, especially your elderly family member, can be a stressful time. Whether it was planned or unexpected, when you get word that your loved one is ready to leave the hospital, it's both a feeling of relief and perhaps trepidation. You might feel nervous about what's next for your loved one and what is the best possible way to provide post-hospital care.
There can be a lot of factors that will determine what the best resource is for you to help your loved one continue to recover once she leaves the hospital. While you and your family ultimately can make the decision, you'll want to follow these tips to help you make the best decision that will have everyone feeling comfortable about the recovery days ahead.
First, meet with the discharge team.
Do this as soon as possible to get a clear understanding of what your loved one needs, what can be expected during the recovery process, and approximately how long it'll take. Your loved one may need physical therapy, medication management, a special diet, and of course, a quiet place to rest and heal.
The discharge planner at the hospital can help you determine if you can hire a post-hospital care provider to come to your home to help with post-hospital care if your loved one should check into a post-hospital care facility, or if you can manage it on your own. It'll depend on a lot of factors like what she was in the hospital for and what her health is like currently. You'll also want to consider if your home is set up to be able to provide her with the best place to recover.
Next, research post-hospital care facilities in your area if you have the time.
If you know your loved one is going to be released after a planned hospital stay, it'll be easier to do some extensive research, but even if you haven't had a lot of time to plan for your loved one's post-hospital care, the Centers for Medicare and Medicaid Services (CMS) has rated most facilities on its website for review.
As you talk with the discharger planner, ask about the admission process. Will you need to bring your loved one to the new facility or will the facility either come and get her or the hospital provide transportation? Will they be ready for her and make her feel welcome once she arrives? Some facilities have private rooms and some have shared rooms. If you're bringing your loved one home for post-hospital care, find out when you can pick her up and the timeframe around that (sometimes discharges can take hours so it's best to be prepared).
Throughout this process, your loved one should be a part of the decision-making process and feel comfortable with the choices that need to be made. The more comfortable she is with where she's recovering, the more quickly she'll recover fully.
If you or an aging loved one are considering Post-Hospital Care Services in Kerman CA, please contact the caring staff at Everlight Home Care today. Call us at 559-353-2847.
Private Duty Home Care in Fresno, Madera, Kern Counties, and surrounding communities. Call us 24 hours a day, 7 days a week.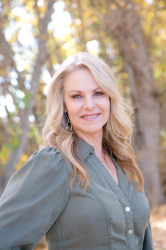 Latest posts by Gina Kendall
(see all)