Tips For Creating A Festive Holiday Mood For A Senior With Alzheimer's
Your senior loved one with Alzheimer's may not know when the holiday season is, but they will know that it's a special time of year. Decorating for the holidays can make your senior loved one's home festive and magical. They don't need to know the reason why you're decorating if they don't remember, they will just know that the home looks beautiful. If your senior loved one has Alzheimer's care services, the caregiver can help you create a festive holiday mood for your senior loved one.
Alzheimer's care is a great way to make sure that your senior parent who is living at home with Alzheimer's is able to get all of the physical and intellectual support they need to thrive at home. You should really consider getting Alzheimer's care for your senior parent if you haven't yet. And you should use these tips to create a beautiful holiday home that might evoke some holiday memories for your senior loved one:
Pull Out The Special Decorations
In most families, there is an old box or two of decorations, lights that only have a few working bulbs, and ornaments that have been passed down in the family for a long time or that your senior parent has collected over the course of decades.
Pull those decorations out and put them all over the house. Don't buy new ones. Put up the handprint turkey you made in kindergarten or the salt dough ornaments that you made with your thumbprint in them the year you turned 7.
Every one of those ornaments and decorations has a memory attached. Your senior parent may remember that decoration or when they got it when they can see and touch that ornament again.
Bake Familiar Treats with Alzheimer's Care Aides
Get the flour and sugar out and bake holiday cookies, cakes, and treats with your senior parent like you did when you were little. Stick to the basic cookies like basic frosted sugar cookies, Mexican wedding cakes, and other traditional holiday fares. Use the recipes that your senior parent has saved over the years and talk about old times while you are cooking. The act of holiday baking and all of those familiar smells and tastes could transport your senior parent to a happier time.
Decorate The Tree Together and Play Holiday Music
If you always had a holiday tree growing up get a tree, even if it's a small one, and decorate it together. Make popcorn strings and other ornaments and decorations. Your senior parent will love looking at the beautiful lights and decorations. They may remember holidays past, or they may not. But either way, they will get joy from the beautiful lighted tree and all the decorations.
Music is one of the biggest memory triggers for seniors with Alzheimer's. Play holiday music and sing carols and have a fantastic time making memories with your senior parent. Even if they won't remember these holiday moments you will. You will have them to hang onto, and that's a great gift.
If you or an aging loved one are considering Alzheimer's Care Services in Sanger CA, please contact the caring staff at Everlight Home Care today. Call us at 559-353-2847.
Private Duty Home Care in Fresno, Madera, Kern Counties, and surrounding communities. Call us 24 hours a day, 7 days a week.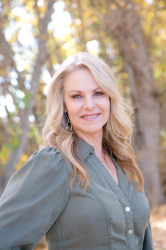 Latest posts by Gina Kendall
(see all)