Helping Your Senior with Alzheimer's Eat Well
If you are caring for an elderly loved one who is battling Alzheimer's disease, you have a lot on your plate. Besides the emotional aspect of watching a loved one slowly disappear into this disease and lose their ability to remember important people and aspects of their lives, their bodies often start to shut down as well. And with a memory that is no longer functioning at 100 percent, they often completely forget about or aren't interested in eating at all. Hiring an Alzheimer's care team to visit and help with daily chores and activities can be helpful. An Alzheimer's home care provider can help you make sure your elderly parent is eating to the best of her ability.
Let's look at some techniques you and their home care provider can try to help your parent's meals be more productive.
Make breakfast the largest meal of the day. Many Alzheimer's patients are more alert and able to follow through with daily routines in the morning so help your parent start the day right with a large breakfast. Give her an assortment of her favorite foods as well as nutrient-dense foods to carry her through the day in case she doesn't eat much again.

If too many foods overwhelm her, look at just providing one food at a time. It might also help if the food is fully on the plate and ready to be eaten before it's placed before her. That way she'll be ready to go as soon as the plate is on the table. Remember to cut all of the food beforehand into small bite-size pieces and try to avoid any foods that may present a choking hazard.
A calm eating area is important. Ask guests or visitors to use calm, quiet voices if they are joining your parent for a meal. Make sure other noises, like a television or radio are turned off. Even having a clean table without a lot of clutter can help your parent enjoy her meal calmly.
If your parent gets confused about how to feed herself, look at simplifying the process. Again, having all of the food cut will help. You can also look at just providing one utensil if she's unsure as to which to use. Choose either a spoon or a fork, whichever makes more sense with what you're serving. You can use plates that contrast with the food being served to help your parent focus on her food and be able to find it with her utensil and then shift the plate around if she only tends to pick up food from one side of the plate.
Finally, if your parent needs assistance with feeding, sit beside her instead of in front of her and slowly help her bring her food to her mouth. Talk calmly but positively about what she's eating and encourage her to chew up each bite before the next.
Be patient with yourself and your parent as you navigate what meals look like now. Helping a person with Alzheimer's eat can be exhausting. Meal planning and having the food ready can make this task a little easier for caregivers.
If you or an aging loved one are considering Alzheimer's Care Services in Madera CA, please contact the caring staff at Everlight Home Care today. Call us at 559-353-2847.
Private Duty Home Care in Fresno, Madera, Kern Counties, and surrounding communities. Call us 24 hours a day, 7 days a week.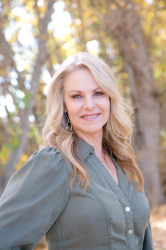 Latest posts by Gina Kendall
(see all)