Fresno Employee of the Month for August 2022 and September 2022
Martina Zamaripa is our employee of the month for August 2022.
1. What was your first job and what were your duties?
Worked in IHSS, and took care of clients. cooked, cleaned, took clients to appointments, bathe them, and prepped food.
2. What is your biggest accomplishment?
My biggest accomplishment is my children.
3. What do you like the most about being a caregiver?
Am able to help people out especially the elderly
4. Why do you like working for Everlight Care?
Everlight has been a great company to me because they are very understanding of the communication and best of it all the appreciation they show you for your hard work.
5. Do you have hobbies?
Crafting
6. What is your favorite vacation spot?
Been to only one place and fell in love with Lake Tahoe.
7. Do you have a pet? If yes, how many, what kind and what are their names?
We have 3 dogs pepper, blue, and fat boy, all Pitbulls.
8. What is your favorite food/restaurant?
Tacos/ any Mexican restaurants don't have a specific one just love Mexican food
9. What is your favorite movie? Why?
Insidious love scary movies
10. Name one short-term or long-term goal?
To get a promotion with Everlight
Tabitha Durand, our Employee of the month for September 2022.
1. My first job was at a non-profit thrift store, where we supplied essentials to at-risk youth, I was a cashier!
2. My biggest accomplishment thus far has been moving to Fresno/California from Texas without knowing anyone.
3. I enjoy being a caregiver mostly because of the fulfillment I feel working with the elderly and hearing amazing stories.
4. I enjoy working at Everlight because I feel like a valuable employee.
5. My hobbies include day trips and concerts.
6. My fav vacation spot has to be my Grandparent's house in their small town where I feel like a kid again ☺️
7. Unfortunately I just lost my best girl about 6 months ago, had her for about 14 years, her name was Sara Gypsy. My roommate has 3 dogs that I help take care of now though!
8. My favorite food is BBQ beef ribs 😋
9. Tie for my favorite movies are Anchorman just because I think it's hilarious and Stand by Me because I like Stephen King's work.
10. Ultimately, I just want to be able to take care of my close family as they have taken care of me, always trying to be better.
If you or an aging loved one are considering Home Care Services in Fresno CA, please contact the caring staff at Everlight Home Care today. Call us at 559-353-2847.
Private Duty Home Care in Fresno, Madera, Kern Counties, and surrounding communities. Call us 24 hours a day, 7 days a week.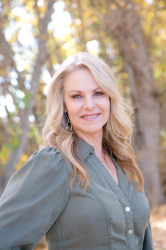 Latest posts by Gina Kendall
(see all)